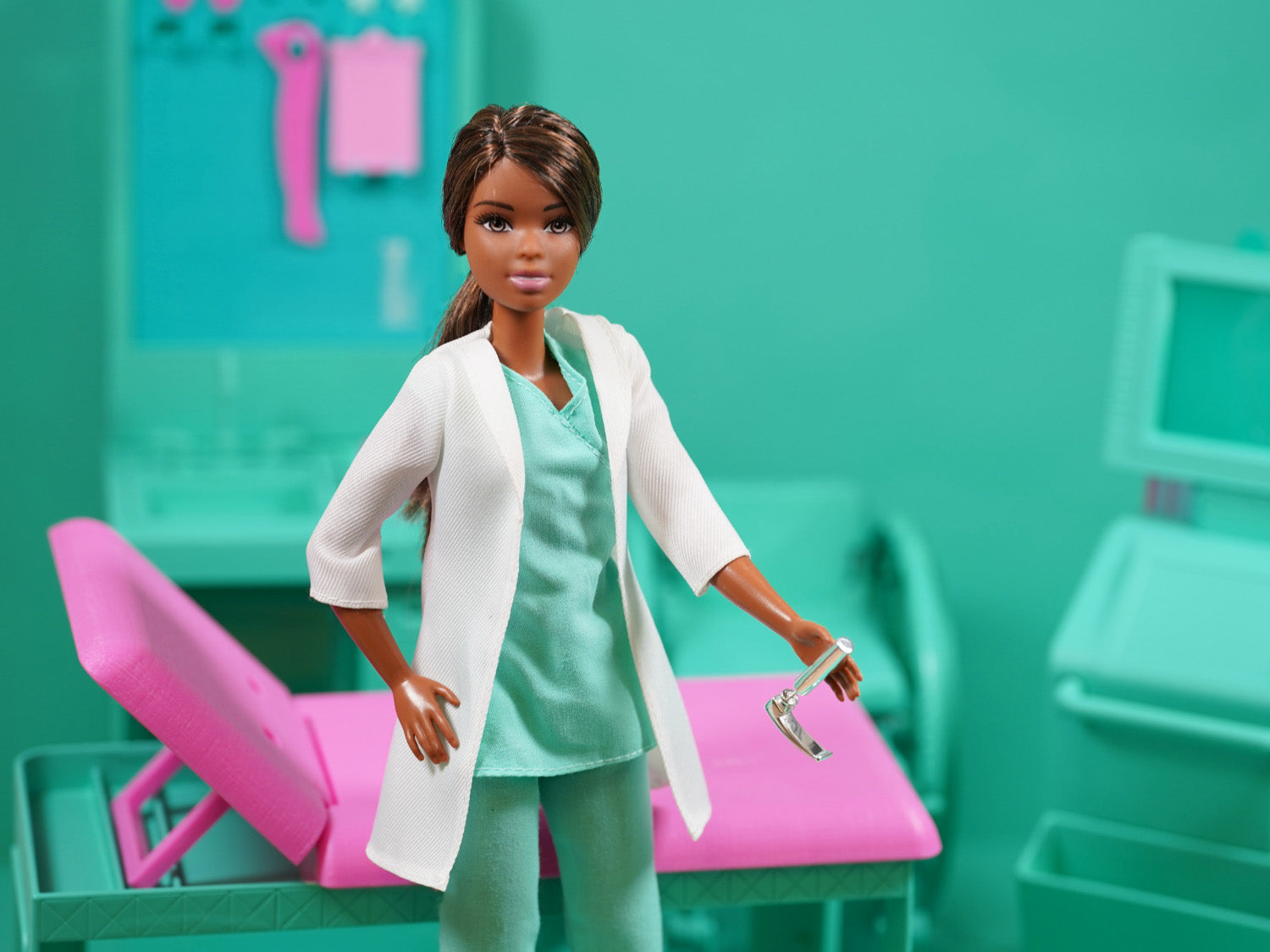 8 STYLISH MEDICAL OUTFITS FOR BARBIE: EMBRACING PERSONALITY AND FEMININITY IN MEDICINE
Barbie has always been known for her diverse range of professions and impeccable style. From astronaut to chef, she's done it all. Now, let's explore what Barbie would wear if she took on the roles of various medical professionals. Get ready to be inspired by these stylish medical outfits that perfectly blend professionalism and fashion.
1. Lab to Fab: No medical professional's wardrobe is complete without a classic white lab coat. Barbie would rock this look in a tailored lab coat adorned with a shiny lapel pin and a ruffled lanyard to add a touch of femininity.
2. Scrub Chic: Barbie proves that scrubs can be fashionable, too! Depending on the day, she opts for a pair of fitted pastel pink or surgical green scrubs, complete with a matching surgical cap and comfortable clogs. A stethoscope draped around her neck with a stethoscope charm and a pop of pink reflects her trademark style.
3. Polished Professional: For a more formal medical office setting, Barbie dons a black pencil dress layered under a blazer with a simple brooch. She completes this look with sleek heels and a statement necklace, showcasing her ability to balance professionalism and style effortlessly.
4. Pediatric Playfulness: Taking on the role of a pediatrician, Barbie chooses a playful ensemble featuring a cute cartoon-character-themed top, colorful scrubs pants, and sneakers. A vibrant headband keeps her hair in place while she interacts with her young patients.
5. Sporty Spice: Barbie embraces athleisure with a sporty medical outfit. She wears jogger-style scrubs pants, a moisture-wicking performance top, and sleek sneakers. This look allows her to move comfortably and stylishly through her busy day.
6. Glamorous Surgeon: In the operating room, Barbie exudes confidence with a glamorous yet practical surgical gown. The gown's trim and accents feature her signature shades of pink, and she wears mauve surgical gloves for a touch of femininity.
7. Vintage Mod Medic: Barbie channels a vintage vibe with a 1960s-inspired nurse uniform. A knee-length A-line dress, complete with a Peter Pan collar and a nurse's cap, reflects the fashion of yesteryears while celebrating the timeless essence of medical care.
8. Radiant Radiologist: For her role as a radiologist, Barbie chooses a sophisticated outfit consisting of black skinny pants, a blush-colored blouse, and a cropped white lab coat. A delicate radiology-themed brooch adds a personalized touch.
Barbie proves that no matter the profession, she can always maintain her sense of style. These medical outfits highlight her versatility, from the classic to the contemporary. Whether she's conducting exams, performing surgeries, or engaging with patients, Barbie's fashion choices make her a role model for aspiring medical professionals everywhere. Who says you can't be a doctor or nurse and look fabulous at the same time?